Vespucci Beach
Error creating thumbnail: File missing
Vespucci Beach is a beach in Vespucci, Los Santos appearing in Grand Theft Auto V and Grand Theft Auto Online. The Marabunta Grande control the area but the Los Santos Vagos also appear during the mission Repossession but can not be found before or after the mission.
Character
Vespucci Beach is a beach populated by many local residents and tourists during the day where the player can find people relaxing on the beach or walking along the boardwalk looking at the many beach front shops. Lifeguards can also be seen at their stations watching over any visitors swimming in the Pacific Ocean despite the fact that no swimmers can be found . Over the night the visitors leave the beach with only workers, cleaning up from the visitors, and hipsters present gathering around fires. The Marabunta Grande control the area although the Los Santos Vagos are shown to have a presence in Vespucci Beach during the mission Repossession. The Vagos, however, cannot be found there outside of Repossession.
Events of HD Universe
Franklin Clinton and Lamar Davis, working for Simeon Yetarian, repossess a green Bagger from Esteban Jimenez killing a number of Vagos gang members while doing so. Michael and Jimmy De Santa also begin a bike race on Vespucci Beach.
Residents
Businesses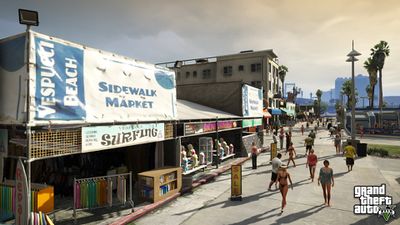 Places
Vehicles
Roads
Other
Trivia