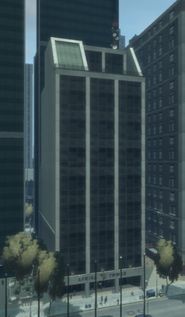 Africa Tower is a skyscraper in Grand Theft Auto IV and Grand Theft Auto: Chinatown Wars, located in Hatton Gardens, Algonquin, opposite the Civilization Committee building.
Description
The Africa Tower, which bears a stark modernist design, is of average size (when compared to other skyscrapers in the surrounding), and sports its name and an image of the African continent in the middle at the base of the building. According to a plaque by the entrance, the building is used for "Third World Debt Collection".
The building is based on the real-life Uganda House (336 East 45th Street) in Turtle Bay, Manhattan, New York City, housing the Ugandan Mission to the United Nations and is actually located in close proximity with the United Nations headquarters (which the Civilization Committee building bases itself on). As Uganda is an African nation, the choice of name for the Africa Tower is fitting. While bearing a close resemblance to the Uganda House, the Africa Tower faces east, as oppose to the Uganda House's alignment towards the north.