Grand Easton Terminal
Jump to navigation
Jump to search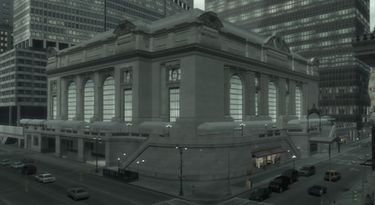 Grand Easton Terminal is a major train station featured in the GTA IV rendition of Liberty City. The building is evidently based on Grand Central Terminal, which is located in New York City.
Appearance
Grand Easton Terminal is an squat yet ornate building in Easton, Algonquin, with its distinctive Beaux-Art facade facing Hematite Street and Columbus Avenue, while a more modern entrance way wedged between two skyscrapers can be found at Bismark Avenue. Although its real-life counterpart features a spectacularly decorative central lobby, Grand Easton Terminal's concourse cannot be entered in game. Around the terminal, not very far off the ground is a peripheral walkway for pedestrians, sporting benches, lamp posts and news stands.
The terminal is constantly in the shadow of the glass and steel monolith, GetaLife Building. The presence of this skyscraper is extremely imposing, especially when you view the terminal and skyscraper from Bismark Avenue, which leads up to the center of the terminal facade from the south, with restaurants on either side of the avenue. However, when lit up at night, the GetaLife Building seems less imposing and both the stone terminal and glass skyscraper harmonize with lighting fixtures.
Subway accessibility
Although Grand Easton Terminal's concourse is inaccessible, the Terminal still serves as a hub for the city's rapid transit system (via the Easton LTA). Every subway line converges there, making it a prime tourist area, as well as the Terminal's proximity to central Algonquin attractions, such as the Rotterdam Tower, the Civic Citadel, Star Junction and The Broker Bridge. Middle Park, however, is still a long walk up Columbus Avenue.
Although the main terminal is on Columbus Ave and Hematite Street, subway exits stretch as far out as Burlesque and Iron Street for easier accessibility to Star Junction.