For the helicopter in GTA Chinatown Wars, see Helicopter (GTA Chinatown Wars).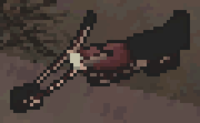 The Chopper is a motorcycle in Grand Theft Auto: Chinatown Wars. It is driven on the street by civilians but is also used as a gang bike for The Angels of Death.
Description
The Chopper is, as implied, a chopper-styled motorbike distinguishable but its modified seating and its long rake, resulting in a front wheel that sticks out more so than the Angel in GTA Chinatown Wars (The Lost and Damned's rendition of the Angel may be comparable to the Chopper).
The Chopper's performance is similar to that of the gang Angel, featuring a moderately good speed, as well as less oversensitive steering and good braking. The bike's endurance may be considered slightly better than that of a normal bike, but the vehicle is still weaker overall from gunfire as well as repeated collisions.
Locations