Vehicle
Speedo

A Speedo in GTA IV.

(Rear quarter view)
A Speedo in GTA IV.
Appearance(s)
GTA IV
GTA V
Vehicle type
Commercial/Industrial van
Body style
4-door panel van
Capacity
4 (driver and 3 passengers)
Manufacturer
Vapid
ADVERTISEMENT
The Vapid Speedo is a windowless cargo van featured in Grand Theft Auto IV and Grand Theft Auto V.
Description
Design
Despite Vapid being GTA's rendition of Ford, the van resembles a 2003-present Chevrolet Express van but the front and back ends have been slightly altered. The badge on the rear reads Vapid ST. The Speedo features various company names, such as Deliver Me Timbers, Easy Lay Carpet, Hello Tailor and Nonna Pina's Restaurant.
Performance
The vehicle is quite agile, thanks to its adapted suspension and weightless rear end. Powersliding is quite easy in this vehicle; however, in Liberty City's hilly terrain the Speedo is prone to bouncing about more frequently than other vehicles of its size. The engine is strong, powered by what feels like a high-torque V8 diesel in a rear-wheel drive layout; leading to acceptable acceleration and a reasonable top speed. Anti-lock brakes are an available option, but are not standard. The Speedo is, after the Burrito, the second-fastest vehicle in the "van" classification, attaining a maximum of 81 mph (130 km/h), but it is the most maneuverable.
Trivia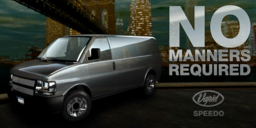 Locations