Kung Fu Rainbow Lazer Force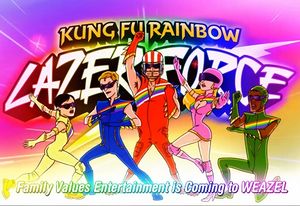 Kung Fu Rainbow Lazer Force is a TV show appearing in Grand Theft Auto V on the Weazel network. The show is a parody of the Power Rangers and Super Sentai franchises. The Kung Fu Rainbow Lazer Force are a group of upper-middle class, heterosexual, and virginal teenage superheroes who fight for family values with extreme violence against the evils of homosexuality, premarital sex, and masturbation. The group's primary power is shooting energy blasts. Each member of the group wears a one-piece sleeveless uniform with a rainbow streak across the chest, and each member has elements unique to his or her uniform.
Characters
Trivia
Fox, Weazel's real-life counterpart, aired the Power Rangers series from its premiere in 1993 until 2002, when the franchise rights were sold to Disney.
See Also