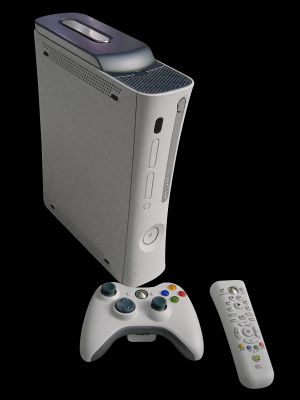 The Xbox 360 is Microsoft's successor to the Xbox. It was launched on November 22, 2005 in North America. It directly rivals Sony's PlayStation 3, and the Nintendo Wii.
Unlike its predecessor, which used a modified X86 CPU, the Xbox 360 uses an IBM-based tri-core CPU called the "Xenon" clocked at 3.2GHz, an AMD-based (originally ATI) GPU called the "Xenos", and 512MB of system memory. For storage, the Xbox 360 used standard 2.5" SATA hard drives in proprietary enclosures, with capacities ranging from 20GB to 500GB. For portable storage, the original model Xbox 360 used proprietary memory cards, which were removed in later models; however, subsequent system software updates allowed the Xbox 360 to use standard USB flash drives and external hard drives up to 2TB.
At launch, the Xbox 360 was available in two models: a "Core" model without any storage, a wired controller, and composite AV cable, and a "Premium" model with a 20GB hard disk, wireless controller, and component AV cables. The Xbox 360 was later augmented with the "Elite" model, which introduced HDMI connectivity and a 120GB hard drive. The "Core" was supplanted by the "Arcade" model, with a standard wireless controller and a 256MB memory unit while the "Premium" received a larger capacity hard drive, and both models would also receive HDMI.
The original model Xbox 360 was notorious for hardware failures, most notably the "Red Ring of Death", primarily caused by overheating due to its constrained case design.
The Xbox 360 S is a major hardware redesign announced and released on June 14, 2010. The Xbox 360 S addresses the reliability issues of the original console with improved cooling and a smaller and more energy-efficient chipset. The Xbox 360 S also included a built-in wireless adapter standard for all models, whereas the original model required an external adapter. The Xbox 360 E, announced and released on June 10, 2013, is a refresh of the Xbox 360 S, featuring a chassis design similar to its successor, the Xbox One. The Xbox 360 E also has one less USB port and the only outputs available are HDMI and composite via a 3.5mm TRRS cable.
The Xbox 360 received several add-ons during its lifespan, including an external HD-DVD player (which was discontinued when Sony's Blu-ray format won the high-definition optical disc format war) and the Kinect motion control peripheral, which coincided with the release of the Xbox 360 S.
The Xbox 360 was discontinued worldwide on April 20, 2016; however, Xbox Live services remain available.
Grand Theft Auto Games on Xbox 360
All Grand Theft Auto games released on the original Xbox can be played on the Xbox 360, with a free software emulator.
Gallery