Lowrider Challenge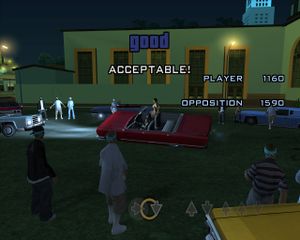 The Lowrider Challenge is a rhythm-based side mission in Grand Theft Auto: San Andreas. It is not required to do this to achieve 100% completion.
The mission can be activated by approaching the mechanic outside Unity Station in Los Santos with a lowrider (Blade, Broadway, Remington, Savanna, Slamvan, Tahoma, Tornado, Voodoo). The challenge involves pushing the right analogue stick of a controller or directional keys of a keyboard in the directions prompted, making the car hop in that direction. The player can also bet up to $1,000 against the opponent, who is a member of the Varrios Los Aztecas gang.
If the player is in an open top convertible, the player's performance is indicated by its female passenger's position. The higher the score, the more excited the passenger becomes, who sits and stands increasingly higher.
Video walkthrough
PC Version - GTASeriesVideos
{{#ev:youtube|jtwl1ZATR6c|500}}