Head Radio Headquarters
Jump to navigation
Jump to search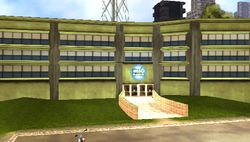 The Head Radio Headquarters is a building in Harwood, Portland, Liberty City, from which the radio station Head Radio is centered and most likely broadcast from. It appears in both Grand Theft Auto III and Grand Theft Auto: Liberty City Stories.
Events of GTA Liberty City Stories
At the beginning of GTA Liberty City, a strike of the ferry workers (led by Jane Hopper) is taking place; Hopper and the workers debunk the construction of the Callahan Bridge and the Porter Tunnel, since it will put the ferry workers out of work. Salvatore Leone, Don of the Leone Family, tries to appease Hopper and make her call off the strike; Hopper, however, was still not convinced. She even snubbed Salvatore once more during a radio interview. This apparently angers Salvatore, who sends Toni Cipriani to send a message to Hopper.
Toni makes his way to the Head Radio Headquarters, apparently where Hopper is. He poses as Hopper's limo driver by killing the actual driver and getting his clothes. Toni then scares her off by maniacally driving around Portland until she says she would call off the strike.
Architecture
The building houses a large ground car park, with two vehicles normally parked on opposite sides. An enclosed path leads to the front doors of the headquarters and the Head Radio logo is placed above the door. The colour of the building in Grand Theft Auto III varies to the colour used in Liberty City Stories. The picture to the right is the Liberty City Stories building, coloured in a light green shade, but the Grand Theft Auto III colour is grey, most likely because of aging. Although the colour varies between the two games, the shape of the offices stay the same.
Trivia