The Beat 102.7 is a radio station in Grand Theft Auto IV and Episodes from Liberty City based on New York City's hip-hop and R&B radio station, Hot 97 and/or Def Pen Radio 71.8. A portion of the tracklist is exclusive to each stand-alone game, but downloading The Lost and Damned for Grand Theft Auto IV updates the station to include all songs.
The station features segments by famous hip hop DJs. For instance, DJ Green Lantern's segment in GTA IV is referred to as "invasion", while Funkmaster Flex's own segment in The Lost and Damned features more top 40 rappers and a heavy preference for the popular yet controversial practice of auto-tune, and Statik's segment features more underground rappers, most of which he has personally worked with before.
Genres: contemporary hip hop, rap, R&B
Tracklist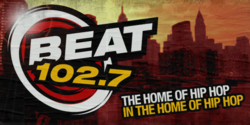 Grand Theft Auto IV rendition
DJ: DJ Green Lantern (aka The Evil Genius)
DJ: DJ Mister Cee (aka The Finisher)
The Lost and Damned and Episodes from Liberty City rendition
DJ: Funkmaster Flex
Interlude[1]:
DJ: Statik Selektah
Trivia
For some reason, The Beat 102.7 is called "Beat 95" in the game files.
This station plays in Playboy X's Penthouse.
The station is a replication of Hot 97, an urban contemporary radio station in New York. The stations both play contemporary hip-hop and have mixshows by DJs Green Lantern, Mister Cee and Funkmaster Flex, one of the on-air DJ's on Hot 97, plus the stations both use Eric Edwards as their imaging voice.
One of the promotional intros for the station says that rappers gain credibility after they're shot outside the Beat 102.7 building. This is a reference to two conflicts at Hot 97, one between 50 Cent and The Game and the other between Lil' Kim and Noreaga.
It is the favourite radio station of Armando Torres, Dwayne Forge, Playboy X and Brucie Kibbutz.
Three of the four DJs (all except Mister Cee) have worked with Royce Da 5'9", who was very prominently featured on GTA III's Game Radio.
The Beat's digits 102.7 are the same as the real life station Fresh !02.7 which plays fresh music in the New York tri-state area.
See also
References
↑

The Lost and Damned credits
External link