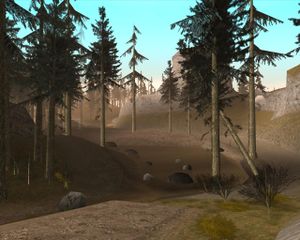 Back o Beyond is an area in Grand Theft Auto: San Andreas, located in southeastern Flint County, San Andreas, neighboring Shady Creeks and the rest of Whetstone to the west, the Los Santos Inlet to the east, and Leafy Hollow and Flint Range to the north.
Description
Back o Beyond is one of the most isolated areas in San Andreas, with close to no structures built aside roadways and bridges. The area is heavily forested, featuring terrains of various elevations, varying rock formations, and a basin/lake towards the north that appears to link up to a waterway into the Los Santos Inlet but is actually blocked off.
Back o Beyond has achieved notoriety from the large number of myths which seem to focus on the area, with the most notable being Bigfoot and the ghost cars (Often, two empty cars will spawn around the area's two horseshoe shaped cliffs, rolling down and giving the appearance of a ghost car). Other particularities include:
An angled tree which allows the player to run up it and jump into the basin/lake below (shown in the above screenshot).
The basin/lake in Back o Beyond is unique in that it is evidently stagnant, being brown as opposed to blue. It is prevented from reaching the sea by a natural dam of rocks. A textural glitch is present here; if a vehicle is slightly submerged, the underwater part will be invisible when viewed from the surface.
Spawned items
Weapons
Parked vehicles