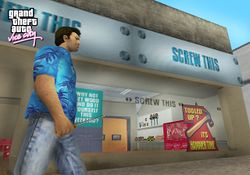 "All brands on sale. Entire inventory must go! Free screws!"
-Vice City Bureau of Investigation description.



The Screwdriver is a melee weapon featured in Grand Theft Auto: Vice City. The screwdriver uses a stabbing motion and can be used to stab victims or damage vehicles. All hardware stores sell the screwdrivers for $10. The screwdriver appears in one mission: The Fastest Boat. It is held by one worker inside the Boatyard, at the switch where Tommy releases the boat.
Despite it's small size and seemingly harmless apperance, the Screwdriver is a fairly good melee weapon. It can kill pedestrians in 1-3 stabs and rarely attracts a wanted level, provided the killings are done out of sight of the police. The player can also sprint with the screwdriver.
Locations