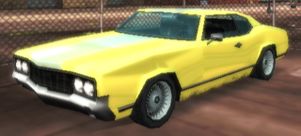 The Cholo Sabre is a two-door coupe and gang car in Grand Theft Auto: Vice City Stories.
Description
The car is a variant of the Sabre and Sabre Turbo cars, serving as the gang car of the Cholos gang and is distinguished by its wire rims, yellow body color and a white stripe, similar to the Sabre Turbo, and lower ground clearance. However, it has much worse handling than the Sabre and Sabre Turbo do, making it almost impossible to execute emergency-brake corners.
The Cholo Sabre can be found in Little Haiti, Vice City prior to the mission "Havana Good Time", in which the Cholos were forced out of Vice City. After this mission the Cholo Sabre can occasionally be found driving around Little Haiti.